If you're considering taking the plunge and building your dream pool, you may be looking through pool designs and trying to determine what best fits your needs. In addition to taking your personal preferences into consideration, it's imperative to also consider the space you have available—for example, a sprawling lagoon style pool in a small backyard is likely not feasible.

This being said, regardless of what pool design you've settled on—lagoon, geometric, or a unique, custom-designed pool—there are some features you can add that have the ability to turn a "nice" pool into a beautiful outdoor oasis. In this blog, the expert pool builders of Imperial Pools & Landscape would like to highlight a few of these features.
Read on to learn about five water features that can turn your pool into an outdoor oasis.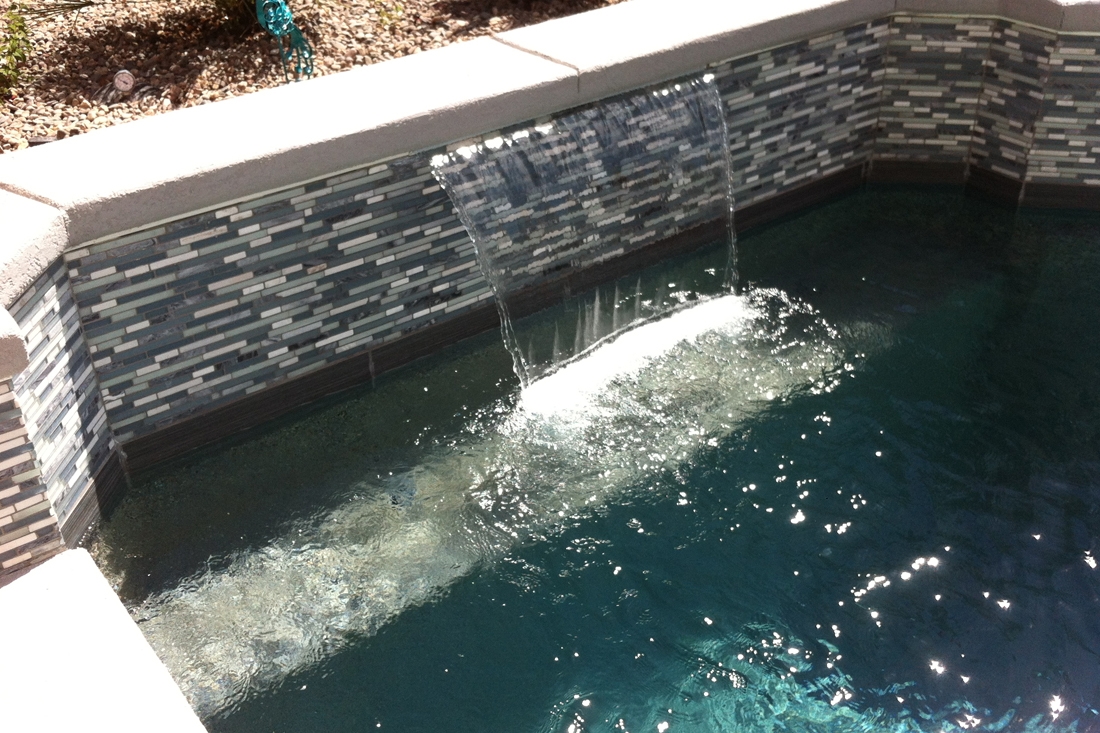 Sheer Descent
Adding a sheer descent to your pool is certainly a way to add some originality and uniqueness to your outdoor space. Unlike a traditional waterfall feature, this creates a smooth, clear arc of water that evokes elegance and serenity. It can also serve as a nice focal point for your pool area. At Imperial Pool & Landscape, we have a variety of sheer descent styles to choose from—sheer waterfall, arc sheer waterfall, curtain effect, or curved waterfall—and, as with everything we do, we can work with you to build a custom descent that accomplishes your goal.

Waterfall
The waterfall feature is—as the name indicates—made to mimic a natural waterfall. To accomplish this, many pool builders, Imperial Pools & Landscape included, will create a natural-looking setting outfitted with rock outcroppings and stones that are hand-laid to create a natural, aesthetically pleasing waterfall. Though this feature could be added to nearly any pool, it tends to work best in conjunction with a lagoon-style pool.

Rain
Ahh, rain—a sound that brings us comfort and tranquility. With a cascading sheet of rain, built to imitate the sound and look of a steady downpour, you can bring this serenity to your pool area. Not only does this type of fountain produce the peaceful sound of rain, but it also adds an elegant focal point to your outdoor space, making it the perfect addition for those wanting to create a more modern look with their outdoor oasis.

Sconce
A water sconce is a timeless feature for pools and fountains. They combine the sound of falling water with the intrigue and beauty of a classic and elegant aesthetic. Not only are sconce water features an architectural detail that will harmonize with virtually any pool or spa, but they are relatively affordable and easy to add. To learn more about how you can add some to your pool, contact the pool experts at Imperial Pools & Landscape.

Custom-built Feature
Admittedly, this unique option is not something that all pool companies offer. Adding a custom-made architectural feature to your pool often requires a great deal of skill and experience designing custom water features that align with existing landscape and are built to last. At Imperial Pools & Landscape, this is something we specialize in. Our skillful designers and pool builders are able to leverage their years of experience to work with you to build the perfect custom water feature.
Ready to build your own outdoor oasis? Contact Imperial Pools & Landscape! From pool remodeling to custom-made pools, we take great pride in the work we do, and we have earned a 100% satisfaction rate because of it.
To get a better sense of the work we do and the type of pool that may work best for you, check out some of our past projects.